IMPORTING SERVICES AND AVAILABLE DOGS...
Updated: SEPT 08, 2005
FLASH!!! SEPT 9, 2005
~ AVAILABLE TO SUPERB , SERIOUS HOME ONLY~
VA QUANTUM ARMINIUS SON OUT OF A VA ODIN V HIRSCHEL DTR.
STALLION MALE, BLACK AND MAHOGANY, XINT DRIVES, XINT MOVER.
CONTACT KEN TANK FOR DETAILS.
Sire: VA Erasmus V Noort X Dam: V Feli v Hutberg
SchH3, KK1a SchH2, KK1a
( Dtr of VA Odin v Hirschel )
~This Pedigree Has EIGHT VA'S IN THE First Three Generations~
* VICTORY WELCOMES TRYST VOM LANGENBUNGERT TO THE FAMILY! *
GORGEOUS , HARD -AS- NAILS BLACK & MAHOGANY DTR
OF VA ERASMUS VAN NOORT & V FELI V HUTBERG, (PICTURED ABOVE)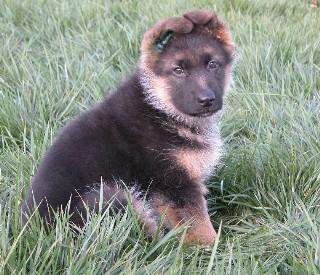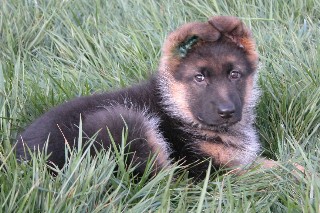 "Tryst" is pictured above at nine weeks (3-22-2005)
Already Showing Outstanding Structure, Movement, Hardness, and Drive
Not to Mention Gorgeous Breed Type
Look at her now, Below,"Tryst" August 10, 2005 at 6.5 months, Wow!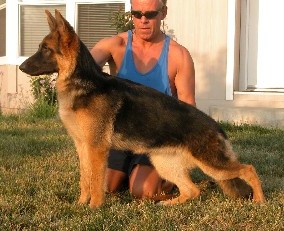 She Has Already Perfected the "Erasmus Glare" , lol. This Is One TOUGH COOKIE!
NO SORRY SHE IS NOT AVAILABLE
TRYST CONGRATULATES HER LITTER SISTER "TIKA" ON HER VP-1 AT THE 2005 CANADIAN SIEGER SHOW!!!
Contact Ken Tank for more Information